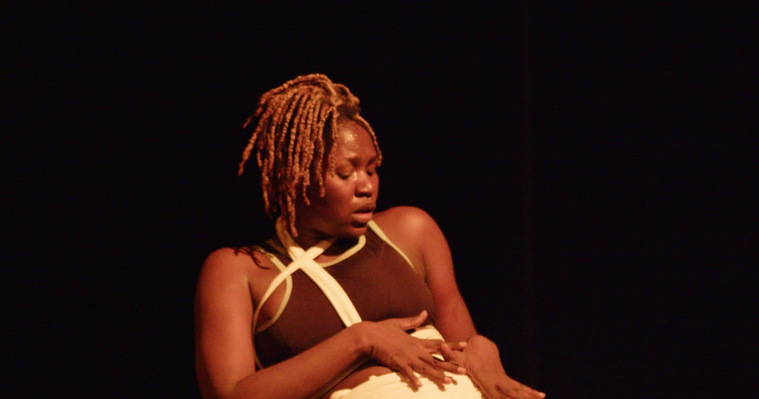 The young contemporary Malian dancer Bibata Ibrahim Maiga grew up in an intelectual and spiritual environment in Gao, the area in Mali that recently was a war zone. Due to the conflict in the north, she moved to the capital Bamako, and started to develop her skills as actress and dancer. She was headhunted by the international dance company Faso Dance Theatre based in Bruxelles, and has just been awarded with the first prize in the competition "Africa Simply The Best" in Burkina Faso, for her solo performance "Esprit Baward".
Born in Gao, Mali, Bibata Ibrahim Maiga received her primary and secondary education at Sister Généviève Catholic School and Yana Maiga High School in Gao. After the Bac, she continued her graduate studies at the Faculty of Languages in Bamako. After a year at FLASH, she obtained the entrance examination to the Conservatory in dance in 2013, and 5 years later graduated with a master 2. She also graduated from the École des Sables on June 10, 2017 after 3 years discontinuous training in deconstruction techniques for African dances and progress towards choreography.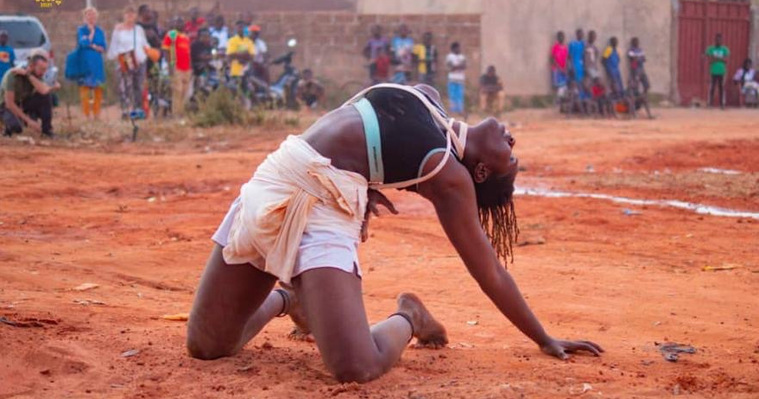 Dancer performer, film actress and musician committed to human rights, Bibata Ibrahim Maiga has had quite a bit of artistic adventure in order to forge herself and grow as an artist through other training courses and creation laboratories with renowned choreographers in different countries, namely: "Female Engagement" 2019 in Burkina Faso FAso, "Glomus Camps" 2016 in Brazil, "Black Dance, Art of Teaching" 2018 in Senegal, Fari Foni Wati's laboratories, (2018-2019) the KN Laboratories and Danse Bamako danse (2015-16-17) in Mali, Un pas vers avant 2019 in Chad, Dance Africa Dance master class in Marrakesh, so she collaborated with Kettly Noel, Gemaine Acogny, Serge Aimé Coulibaly, Salia Sanou, Patrick Acogny , Nadia Beugré, Qudus Onikeku, Auguste et Bienvenu Bazie, Gilles Jobin, Alesandra Setin, Nora Chipaumire, Bernardo Montet, Ahmed Taigué, koné Lasine, Ahmadou Sanogo, Lacina Coulibaly, Sayouba Sigué,, Taoufik Izeddiou, Moya Michael Dramaturge Ben ) ... as well as musicians such as Tiken Jah Fakoly, Habib Koité, Bonkana Maiga, Sidiki Diabaté ...
Dance Theaters and Festivals "Kalakuta" by Serge Aimé Coulibaly: The MA National stage of Montbéliard, Friborg, Le Festival Danse Métisse 2020 in Guyana), Kirina Serge Aimé Coulibaly (The Stadsschouwburg Theater in Austria, International Theater Amsterdam, Stadsschouwburg in Rotterdam. "Wakatt" by Serge Aimé Coulibaly, La Croix- Rousse in Lyon at the Biennale de Lyon, Le grand THÉATRE in Luxembourg, Les Recréatrales in Burkina Faso, The National Theater in Brussels, The Tanzhaus NRW Theater in Düsseldorf, The Kampnagel in Hamburg, Epidaurus Festival in Athens. "Esprit Bavard" by Bibata Ibrahim Maiga: Dialogue de Corps in Ouaga, Festival sur le Niger in Ségou, Bam festival in Siby, Blonba Cultural Complex in Bamako, Biennale Danse Afrique danse, On march in Marrakech. "Tchii!" by Bibata Ibrahim Maiga, Local tour in Bamako, Mali.
In addition, Bibata Ibrahim Maiga makes music, including the guitar her favorite instrument (winner of Maxi Vacance 2013). Film actress, she received the best Canal + actress award at the 2019 Clapivoir Festival in the film Kuma by Hawa Aliou N'Djaye; Mali Award danse 2019, Laureate at the choreographic meetings of Abidjan and Visa for creation 2019 and Residence Institut Français 2021 with Terre Promise / Corps 100 Esprits and Acogny Gold Laureate of Africa Simply The Best in December 2021.
Bibata, is also Founder of an association "I Dance'O (Facebook page) and Director of the B-Z'Art move center space, and trains street children / young people in Bamako and in the North of Mali, Gao precisely. She is also trainer in a lot of activity and training workshops, either organised by the association or by other structures.