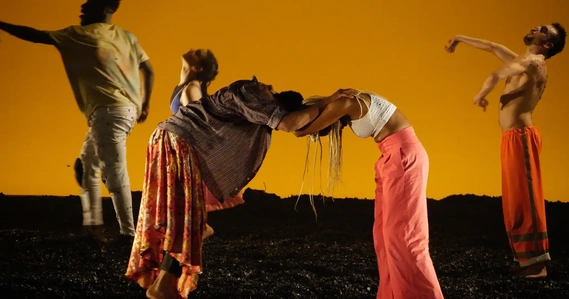 WAKATT
The title Serge Aimé Coulibaly has chosen for his new piece, Wakatt, is a word of Arabic origin meaning "our era", in Dioula, his mother tongue. It reflects his duality, working and living in both Bobo-Diolasso, the city where he was born, and Brussels, his adopted home. As always with this choreographer, politics lies at the core of his research. After Kalakuta Republik, inspired by Fela Kuti, but also totally rooted in the realities of Burkina Faso, he is now exploring the dynamics of fear and manipulation, but also those of desire and beauty. With ten dancers and the musician-composer Magic Malik, Coulibaly sheds a sensitive light on today's sordid realities, while holding onto hope with the full force of body and spirit, in a dance that lives completely in the moment.
There is also a smaller version available with recorded music.
Production: Faso Danse Théâtre
Coproduction: Théâtre National Wallonie-Bruxelles (BE), La Biennale de la Danse Lyon (FR), Ruhrtriennale (DE), Les Théâtres de la Ville de Luxembourg (LU), deSingel Antwerpen (BE), Kampnagel Hamburg (DE), Münchner Kammerspiele (DE), Tanzhaus NRW Düsseldorf (DE)
KALAKUTA REPUBLIK
Inspired by Fela Kuti, the Nigerian composer, saxophonist, conductor, political activist and inventor of Afrobeat, the Belgian-Burkinan choreographer Serge Aimé Coulibaly has created a new performance in which politics is more than just a vague dramaturgical undertone.
A dizzying fusion of dance, music and revolution, inspired by the supercharged music and scandalous life of Fela Kuti. Pioneering dancer and choreographer Serge Aimé Coulibaly takes Kuti's life as inspiration for this visually stunning, hypnotic dance work for seven performers. In Coulibaly's dynamic, demanding choreography, dance becomes a symbol of transformation, a ceaseless march towards ultimate freedom.
Kalakuta Republik was presented as one of the official selections at both the Festival d'Avignon (2017) and the Edinburgh International Festival (2019).
Production: Faso Danse Théâtre & Les Halles de Schaerbeek
Coproduction: Maison de la Danse Lyon (FR), TorinoDanza (IT), Le Manège – Scène nationale de Maubeuge (FR), Le Tarmac – La scène internationale francophone Paris (FR), Les Théâtres de la Ville de Luxembourg (LU), Ankata Bobo Dioulasso (BF), Les Récréâtrales Ouagadougou (BF), CC De Grote Post Oostende (BE), Festival AfriCologne (DE)