MÉLODIE GIMARD NUMEN ©℗One World Records 2020
Flamenco jazz
From the innovative Barcelona music scene comes the classically trained singer and pianist Melodie Gimard. On her flamboyant flamenco jazz album Numen, the young composer-musician performs classical piano playing mixed with jazz and especially flamenco. The young Cuban Carlos Sarduy (ex Ojos de Brujo) plays a connecting role with his lyrical trumpet playing. Gimard's original piano playing and her quartet are acclaimed on Numen, which means free spirit, from passionate singing that creates raw emotions. This stunning album is underpinned by meandering piano playing, with classical motifs seeping through in Que Seria and Deja Vivir. The tributes to the legendary flamenco musicians, star guitarist Moraito de Jerez and gran cantor Manolo Caracol, are intense and penetrating.
Pieter Franssen, March 2021, Jazzism
MÉLODIE GIMARD NUMEN ©℗One World Records 2020
Lira Likes!
Elegant flamenco jazz
'The French-Catalan pianist and composer Mélodie Gimard makes her debut with an extraordinarily fine, self-produced record in which she plays her instrument, the piano, with great skill and joy, filled with expressive energy and sensitively accompanied by a long line of fellow musicians. All material is composed and arranged by herself.Gimard mixes flamenco with jazz and classical music with elegance, so beautiful, dynamic and skilful that it is no exaggeration to say that she belongs to the absolute top of modern flamenco pianists. Also on the record, she has invited guest musicians from the new generation of flamenco singers and jazz instrumentalists from Spain and Cuba. This of course takes the disc to an additional level.I can only say: stunningly beautiful, brilliant, high-class and majestically played flamenco jazz.'
Maria-Kaisa Jurva Nov 20, 2020 LIRA
CONCERT REVIEW Mélodie Gimard / Chano Domínguez trio November 1, 2020 Candido Querol Chano Domínguez , Mèlodie Gimard
Ciutat Flamenco. BARTS October 27, 2020
This same month we had interviewed the French pianist Mélodie Gimard to tell us about her album Numen , and to serve us as a host to go through the content of the Ciutat Flamenco of this busy 2020. Many young audiences eager to enjoy Mélodie Gimard's project and a resounding success. Both for the music they offered us and for the freedom of the group's members who offered a high-quality show. A Karen Lugo to the dance with four interventions, each more showy and surprising. The mexican has a way of moving her hands that enchants any audience, most of her dances are silent (without tapping) but her whole body glides across the stage with enviable ease. The guajira with that way of moving the fan was to remember her for a long time. On the trumpet the Cuban Carlos Sarduy who handles the rhythm of flamenco as if he had been born in Cádiz, with those powerful inputs and those salty phrases. On the cello (sometimes acting as a double bass ) another essential Cuban, Martín Meléndez. It was contained when the script required it but when it was released, oh my friend ! It is a monster. What he takes out of his instrument if you don't see him you don't believe. On the drums Pablo Gómez managing the rhythm so that all the others could perform their solos. In the cante Anna Colom is not intended to Numen be a disc Flemish typical so Colom could adapt the songs and open to improvisations especially playing with the times and can be a soloist more with Cuban and the same piano of Gimard, but not taking all the weight of the songs like a typical cantaora. Gimard, nervous in the words but accurate in the music, as she was presenting ideas and musicians, she enjoyed their harmonies, she knew how to leave the space that such great musicians need but she also knew how to make it clear that the piano has a great weight in this project and that in small groups it can be very interesting. It started with ideas without words about happiness very poetic, it was like Mélodie wanted to pay homage to Cadiz and Chano who was going to perform in the second part of the night. Colom is very confident in cante despite the fact that the piano sometimes plays so freely that she does not make it easy for the cantaora. In addition, Colom ended by Jacks , Mélodie was very clear about that tribute to her Aragonese family. They continued with Numen that gives the album its title, inviting Sarduy to come out on stage. A tribute to Morente that the group knew how to give the freedom it deserves. They continued with a milonga Que sera , dedicated to the mother and all the mothers present in the room. Then came the guajira, some festive bulerías that she has titled Laberinto y la terrible farruca that I like so much on the album and live it seemed even more tragic to me. The time they had was little (due to covid time restrictions) but they did not want to leave without the typical bareback bulerías party, where Mélodie was also able to show her dance skills. The second part came with surprises. Announcing Chano Dominguez Flamenco Carles Benavent trio of stage fright Chano Domínguez on piano , Blas Córdoba "The Kejío" to the cante and his son José Córdoba to the drawer. Chano Dominguez has been demonstrating his level for many years, not only here but internationally. The way to enter those alegrías can only be done by someone who knows flamenco very well and at the same time used to be working with people as diverse as the Nordic Benjamin Koppel and Jacob Andersen in that Ritmo! Cowbellmusic, 2000 or the internationals George Mraz and Jeff Ballard in another essential album Con alma Karonte, 2005 , to name lesser known projects or the sensitivity of their duet with Javier Colina, Chano & Colina Karonte, 2017. Well, the work of the man from Cádiz is so extensive that we could dedicate ourselves all day. But let's go back to the concert, Chano explained that he was happy to play live and more with his family, referring to Córdoba with whom he had worked with Paco de Lucia's group. Chano added tension and depth, the most thorough flamenco filled the room. Chano was willing to play with the sounds he wanted and, supported by the percussions of the young José Córdoba, he was moving as he liked through the blackness of the seguiriya. He did not want to finish this third without letting El Kejiowill bring out its most melodic part in a kind of song, the Kejio has a very coppery and surprising voice difficult to compare to any other cantaor, just as Chano has collaborated with many jazz musicians such as the trumpeter Winton Marsalis or the drummer Jack Dejonhette
And Carles Benavent arrived ! The one from Poble Sec has been part of Paco de Lucia's sextet for many years, like Córdoba and Chano, it was clear where the shots were going to go, Chano didn't take long to announce it, We will play our songs but especially Paco's , but Benavent wanted to ask the respectable for their support to dedicate the concert to the sadly recently deceased Vicente Castro "Parrita" Benavent was ravishing and it didn't take long to take over the situation working with the bass both from the most flamenco chords and in a line close to the bluesand the rock that he has defended for many years in projects like Machine or Urban Music. Benavent has
always represented the perfect fusion between flamenco and rock , his works with Jorge Pardo attest to this. In addition to having played with great musicians such as Paquito D'Ribera, Michel Camilo or Miles Davis himself. We would also need a lot of time to talk about his work. The two geniuses in action reviewed scenes from their time with Paco, the Córdobas kept discreet and David Gómez on the drums that far from being intimidated by the two figures, a concert he will not forget was marked, one had to be very attentive to the antics of the two friends who wanted to play with their memories, but Gómez was attentive and also knew how to finish off many complex situations . A pleasure.
Candido Querol November 1, 2020 B-RITMOS
MÉLODIE GIMARD NUMEN ©℗One World Records 2020
French composer and pianist Mélodie Gimard debuts with the album Numen. Born in France, Mélodie was surrounded and exposed to music from an early age - her mother was a famous singer with recurring world tours. Currently based in Barcelona, ​​Gimard -who went to the Perpignan Conservatory- is a graduate of ESMUC (Escuela Superior De Musica De Catañuña). Numen, a word that means spiritual presence, was produced by the Danish label One World Records. A rhythmic melting pot with Flamenco as the common denominator. Different sound and rhythmic influences such as Jazz, Classical and Cuban Music come together in the ten tracks - all written and arranged by Mélodie herself - that make up the recording.
The theme that gives the production its name builds bridges with Flamenco and Jazz. With an enveloping aura and a devilish rhythm, he highlights, in turn, the vocalist Matias López Expósito. Guajiras flirts with Afro-Cuban rhythms and invites Spanish vocalist Naike Ponce and Cuban trumpeter Carlos Sarduy. Que Sería opens with a memorable piano solo by Mélodie and a pregon inspired by Goerge Sand's text Aurore. Cayo Al Ground and Deja Vivir, both in Farruca's time, have an extraordinary intensity. In Buleria's time the number Labyrinth is an instrumental energy with an excellent performance by Girard on piano. The melancholic piece Glosa a Caracol, in Zambra's time, invites Alfredo Tejada in the vocal part while Zaïda does the same with El Chozas De Jerez. The phonogram closes with the intimate number De Bronce, a tribute to Manuel Moreno Junquera, better known as Moraíto.
Numen is simply majestic and brilliant.
DJ El Chino, July 10 2020, SOLAR LATIN CLUB
MÉLODIE GIMARD NUMEN ©℗One World Records 2020
Expressive power
'Numen' stands for the power that moves an artist in creating and realising an idea.And powerful, that is Mélodie Gimard for sure, both in terms of her creative finds andtheir execution. As a child, she traveled the world with her mother's Spanish folk musiccompany. With her solid background as a classical pianist combined with herknowledge of flamenco, jazz and folklore, she has gold in her hands to freely createnew musical forms, and she does so with obvious pleasure. Add to that hertemperamental personality at the piano, plus a subtle touch, a talent for compositionand a passionate and dynamic playing. Colourful contributions from guest singers likeMatias López and Alfredo Tejada (both winners of the leading 'Lampara Minera' inrecent years), rising star Naike Ponce and the seductive voice of Ana Brenes addextra weight to this expressive album. Keep an eye out for this fiery Frenchwoman asshe might just be the next big star in the flamenco piano firmament.
Luna Zegers July 4 2020 Espanje Magazine
MÉLODIE GIMARD NUMEN ©℗One World Records 2020
Very special lady, this Mélodie Gimard. She is from Perpignan, which makes her a Catalan. There she also studied, but for the "real" work she went to Barcelona, ​​which makes her pure-bred Catalan. There, in addition to her classical education and jazz fascination, a passion for flamenco developed. Gimard, who performs a lot in and around Barcelona - she is part of a flamenco quartet and a jazz trio - debuts here with a record that, as soon as you are three minutes away in the opening title track - that is also behind the accompanying Youtube- link- make you realise that you are dealing with something special and someone here.
The record title - the classics among you will contradict me, if I'm wrong- comes from Latin and stands for the notion "spiritual presence", or "mental strength". Actually, the term originally meant "nod of the head", referring to the simple gesture with which a Roman Emperor could approve or disapprove at the time. The "power of the head" was then interpreted literally, but gradually moved to the spiritual playing field. We would dare say "stand firmly on your feet", but so far this digression. Let's stick with the music ...
It comes all the way from the pianist's powerful quiver, which is technically exceptionally strong and clearly classically trained. In addition, she turns out to be completely averse to any genre boundary and jumps to jazz with as much favor as to the classical Latin styles. Sometimes you could situate her in Marseille, then again she seems to be Cuban or to have absorbed all of Andalusia. This results in a hugely varied record, on which you can get to know the pianist / soloist just as well as the composer or the accompanist, who knows how to put her playing at the service of the voices, which take the record to a very high level. These voices are from Matias Lopez, who takes care of half of the vocals, and from Naike Ponce, Alfredo Tejada and Ana Brenes and they provide a very modern approach to flamenco, which is peppered with whole bites of milonga and guajira and in addition, the jazz of someone like Ibrahim Maalouf is clearly not unaffected.
At times the record comes across as busy and that is about the only criticism I have: I sometimes feel that Gimard insisted on putting everything in her debut, that she has in it and that is, as I learn from many audiences, a lot. The listener who wants to make the effort to take the songs, in a manner of speaking, drop by drop will find an absolutely fantastic, modern, multi-layered piece of work that - I think - will later prove to have been the pioneer of a complete cover within both latin jazz and flamenco. The interaction between the trumpet (s), percussion and piano in the first half of the record is nowhere less than impressive. Try listening to "Qué Sería?" or to "Deja Vivir" and you will understand what I mean. Impressive debut by a musician with a maturity that makes you doubt whether this is really her debut!
Dani Heyvaert, June 24 2020 ROOTSTIME
MÉLODIE GIMARD NUMEN ©℗One World Records 2020
"Considering the natural way in which the French-Catalan pianist and composer Mélodie Gimard incorporates flamenco into her music, it cannot be otherwise that she grew up with this music. On Numen, Gimard creates a cross-pollination between flamenco, jazz and classical music that is extraordinarily impressive, not in the least because of the great input of guest vocalists."
Eric van Domburg Scipio, Albums of week 25, 2020 POP MAGAZINE HEAVEN
MÉLODIE GIMARD NUMEN ©℗One World Records 2020
'Mélodie Gimard is a French pianist with a classical education who lives and works in Barcelona, ​​who combines a passion for flamenco with classical and jazz. Her compositions are stunningly beautiful, the musicians she has invited are Spanish and Cuban, from the jazz and flamenco angle, and she knows how to enchant you as a listener.
That's why let's put it first, especially through her piano playing, which is crystal clear and sparkling, yet melancholic, upbeat, swinging, steeped in the passion for flamenco and with the timing and phrasing of good jazz. The accents let you jump with pleasure every time, because here is played for fun, and with complete dedication. Think of the virtuosity of an Evgenin Kissin, and then of a pianist who plays her own compositions in which she seamlessly connects flamenco, jazz and classical music. I have been listening breathlessly and I have to conclude that this album only gets better with every turn, because this is truly a modern masterpiece of unheard of class.
The album lasts almost an hour, but that is still far too short for me - I am already looking forward to her next albums. Awesome! An absolute must, but you had already understood that.'
Holly Moors, Moors Magazine, 12 June 2020 MOORS MAGAZINE
MÉLODIE GIMARD NUMEN ©℗One World Records 2020
TRANSGLOBAL MUSIC CHARTS Araceli Tzigane (ES), Juan AntonioVázquez (ES), ÁngelRomero (US)CurrentMembers:
Evangeline Kim (US), Willi Klopottek (LU/DE), Betto Arcos (MX/US), Alejandro López (ES), Jon Kertzer (US), Ken Stowar (CA), Jiří Moravčík (CZ), Mu Qian (CN), Carlos Ferreira (PT), Gil Rouvio (IL), Bouna Ndiaye (SN), Kutay Derin Kuğay (TR), Robert Gregor (SK), Ponxo Taifa Ángeles (X),Yatrika ShahRais (IR/US), Armen Manukyan (AM), Rolf Beydemüller (DE), François Bensignor (FR), Cecilia Aguirre (AR/DE), Eleni Ziliaskopoulou (GR), Marija Vitas (RS), Jaïr Tchong (NL), Enrique Blanc (MX),
Tiago Lucas Garcia (BR, ZekeriyaŞen (TR), Benjamín Muñiz (PR), Daryana Antipova(RU), Mika Kauhanen (FI), LuisaPiñeros (CO), ToniPennacchia (US), Husniddin Ato (UZ),
ChenHanzi (CN), Takuya"Salam"Unagami (JP), SethJordan (AU), TonyHillier (AU), CharlieCrooijmans (NL), Nigel Wood (IE), Dore Stein (US,RogerHoldsworth (AU), MadanRao (IN), Gil Medovoy (US), Chris Heim (US), Ciro De Rosa (IT), Scott Stevens (US), Hendrick TSFoh (MY), Cliff Furnald (US), Rob Weisberg (US), Toni Polo (FR/ES), Nicolás Falcoff (AR), Masakazu Kitanaka (JP), Jordi Demésenllà (ES), Rafael Mieses (DO/US), Luís Rei (PT), Jean Trouillet (DE)
MÉLODIE GIMARD NUMEN ©℗One World Records 2020
"Thanks to her overflowing concern, she has developed a style with energy and sensitivity intertwined between jazz and flamenco, resulting in songs of the level that we present today, Numen."
Mondo Sonoro 24 April 2020
"Gracias a su inquietud desbordada ha ido desarrollando un estilo cuya energía y sensibilidad se entrelazan entre jazz y flamenco, dando como resultado canciones del nivel de la que hoy presentamos, Numen."
Mondo Sonoro 24 April 2020
MÉLODIE GIMARD LIVE
"It took on impressionist harmonies, between opulent arpeggios like Fauré and diaphanous punctuations like Mompou"
Claude Worms, FlamencoWeb 2019
"Elle revêtit d'harmonies impressionnistes, entre arpèges opulents façon Fauré et ponctuations diaphanes façon Mompou"
Claude Worms, FlamencoWeb 2019
MÉLODIE GIMARD LIVE
"The rigorous and creative academy of the young pianist Mélodie Gimard"
Silvia Cruz La Peña, De Flamenco Oct 15 2018
"La academia rigurosa y creativa de la joven pianista Mélodie Gimard"
Silvia Cruz La Peña, De Flamenco Oct 15 2018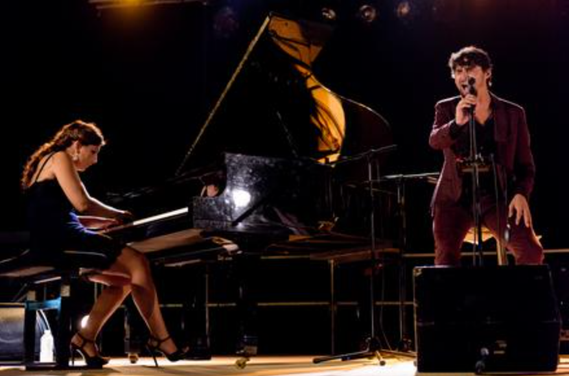 MÉLODIE GIMARD LIVE
"It was Mélodie Gimard & Co who surprised and conquered the public with the originality of her 'Numen' proposal.
The Numen is the working power of the Romans, but for Mélodie it is a way of naming inspiration, without being female or male, because this abstract muse represents for her each of the people or events that l 'inspire. On stage since she can walk, this young virtuoso pianist mixes in her compositions all the influences that her curious nature and her training, first as a dancer and instrumentalist in a traditional music company then at the École Supérieure de Musique from Barcelona, ​​allowed him to garner. Very quickly attracted by flamenco she made it her main axis of creation and surrounds herself with young talented and original musicians who, like her, mix classical flamenco with more contemporary approaches based on new technologies like the loopstation, this box which allows the recording of the voice or an instrument and which reproduces it in a loop. The traditional letras or those taken from texts by Rubén Darío and Adolfo Bécquer mingle with "compases compuestos" according to his inspiration. It's fresh, modern, intelligent and furiously flamenco. A real discovery that we hope to see again in France, Andalusians are already fond of it! "
Dolores Triviño Flamenco Culture Sept 1 2016
"C'est Mélodie Gimard &Co qui a surpris et conquis le public par l'originalité de sa proposition 'Numen'.
Le numen c'est la puissance agissante des romains, mais pour Mélodie c'est une façon de nommer l'inspiration, sans que ce soit ni féminin ni masculin, parce que cette muse abstraire représente pour elle chacune des personnes ou des événements qui l'inspirent. Sur des planches depuis qu'elle sait marcher, cette jeune pianiste virtuose mêle dans ses compositions toutes les influences que sa nature curieuse et sa formation, d'abord comme danseuse et instrumentiste dans une compagnie de musique traditionnelle puis à l'École Supérieure de Musique de Barcelone, lui ont permis d'engranger. Très vite attirée par le flamenco elle en a fait son axe principal de création et s'entoure de jeunes musiciens talentueux et originaux qui, comme elle, mêlent le flamenco classique à des approches plus contemporaines basées sur les nouvelles technologies comme la loopstation, ce boitier qui permet l'enregistrement de la voix ou d'un instrument et qui le restitue en boucle. Les letras traditionnelles ou tirées de textes de Rubén Darío et Adolfo Bécquer se mêlent aux « compases compuestos » au gré de son inspiration. C'est frais, actuel, intelligent et furieusement flamenco. Une vrai découverte qu'on espère revoir en France, les andalous en sont déjà friands!"
Dolores Triviño Flamenco Culture Sept 1 2016