BA BALANCE 'AROUND THE CROCODILE POND' Songlines
Review: Ba Balance 'Around the Crocodile Pond' One World Records ONEPC2020
Ba Balance are Danish blues-rock guitarist Preben Carlsen and West African percussionist Sal Dibba, and the title of this hard-rocking album refers to a sacred pond containing some 80 crocs in the Gambian fishing town of Bakau on the country's Atlantic coastline, where Dibba grew up. Both have played together in various bands over the years and worked with Dawda Jobarteh, Toumani Diabaté, Tony Allen and Bassekou Kouyaté among others. This album consists of nothing but rocking electric guitar and percussion duets, like an African White Stripes.
The ten instrumental pieces are all improvised, Carlsen's stinging lead guitar lines soaring over the polyrhythms of Dibba's virtuoso percussion. At its rawest, Carlsen's playing is reminiscent of the playing of the late Lobi Traoré at his funkiest. At other times, such as on the opener 'Djembe', there's a hint of Touareg desert blues. It's essentially an album of jams, which means there's an inevitable touch of self-indulgence in places. Yet there's a nicely balanced ebb and flow to maintain interest and the fiery dynamic suggests they're probably great on a live stage.
Nigel Williamson, Songlines, April 2021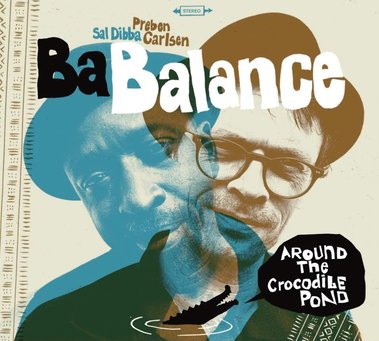 Review: Ba Balance 'Around the Crocodile Pond' One World Records ONEPC2020
The duo Ba Balance was formed in 2019 by guitarist Preben Carlsen and percussionist Sal Dibba. Carlsen and the Gambian-born Dibba have for almost twenty years worked together in various bands, among others with Moussa Diallo (read for example here) and kora player Dawda Jobarteh.
The starting point has from the beginning been world music, preferably in collaboration with the blues rock that Preben Carlsen heard while growing up in West Jutland.
The West African desert blues' kinship with especially the Mississippi hill country variant of American blues is well documented, and this can also be heard in Ba Balance's minimalist set-up with exclusively guitar and percussion.
That the music should be minimalist, however, would be a truth with modifications. Where the hill country blues often strive for the simple with their repetitive, drone-like tours, Preben Carlsen's metallic guitar sounds and Sal Dibba's virtuoso percussion weave themselves in and out of each other in a complicated wickerwork, often on a delicious blues groove as in the song "Deltatonic ".
Around the crocodile pond consists of ten instrumental cuts, all written, arranged and produced by Preben Carlsen. The desert blues is the basis of most of the music, but you are also drawn in other directions. "Behind the hills" has elements of fusion rock and jazz, while "The surfer" does not surprisingly borrow from surf music with names like Dick Dale and Duane Eddy.
However, you are served blue tones from the beginning of the album, and the really catchy opening track "Djembe" is really strong. This early highlight is African blues a la Tinariwen, and the equally excellent "The Stranger" gives with its cool blues-licks and distorted guitar memories of Led Zeppelin.
Another favorite is the more subdued "Bambadinka (The crocodile pond)". Here, Preben Carlsen produces an acoustic chorus-like sound from the guitar, combined with electric blues solos.
It gives good variation in the music when Preben Carlsen alternates between airy elegance and sharp-edged blues riffs, and similarly, Sal Dibba's playing on Around the crocodile pond is alternately shaky and slightly rocking, but always irresistibly bodily.
Towards the end of the album, Around the crocodile pond loses some momentum with the jazzy "Sundown moonup" and the slightly Afro-Cuban-sounding "For Xalam", but it is a petitesse and should not weather the impression of a high-class desert blues album. If you are into African blues, you should therefore not hesitate to listen to this distinguished debut album from Ba Balance.
Around the crocodile pond has been released. There is a release concert at the venue Alice in Copenhagen on Friday 11 June.
Jakob Wandam, Blues News, June 6, 2021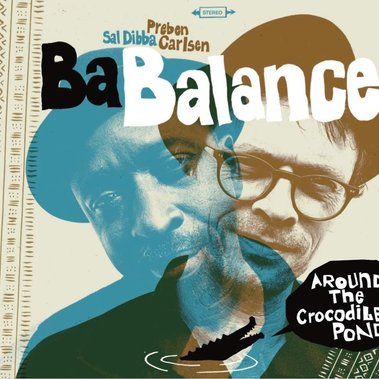 LIRA Music Magazine
Afroblues on duo
Ba Balance Around the Crocodile Pond
Record label: One World Records
Friends Preben Carlsen and Sal Dibba radiate together and improvise ten songs using electric guitar and African percussion. Polyrhythmic poles radiate together when Denmark meets Gambia. Preben Carlsen's blues-rock roots are intertwined with the blues' African ditto. Carlsen drives the electric guitar through effect pedals and loops that create both psychedelic elements and desert bluesy roasting notes.

The Dane has traveled extensively in Africa and is well acquainted with its music, not least through rewarding interactions with Toumani Diabaté, Bassekou Kouyaté and Etienne Mbappé. Back home in Denmark, he has been associated with musicians such as Dawda Jobarteh (Gambian multi-instrumentalist living in our southwestern neighboring country) and Moussa Diallo (no, not the football player but one of Denmark's foremost bassists and also a successful solo artist, with roots in Mali).
The Ba Balance pair horse Sal Dibba has played with Carlsen for eighteen years in a wide range of contexts. But we have also been able to associate him with greats like Tony Allen, Toumani Diabaté and our own Titiyo.
Around the crocodile pond is an impressive instrumental album performed on two hands, but the gentlemen manage to make it sound full, we do not miss any other instruments. May the album be continued. "See you later, alligator / After 'while crocodile…"
Timo Kangas, LIRA, December 10, 2020
Ba Balance Around the Crocodile Pond One World Records 2020
Ba Balance is a duo consisting of two friends: the Dane Preben Carlsen and the Gambian Sal Dibba. Together, the two improvise on Around the Crocodile Pond over some compositional sketches by Carlsen, and since they are both eminent musicians on guitar and percussion, respectively, something captivating comes out of the studio. Carlsen's riffs are at once retro rocked and characterized by new enthusiasm. While Dibba's percussion is so rigorous, fluid and light - obviously West African - that you have to take your hat off to the bridge building. The music is a distinctive, original blend of American-infected blues rock and African rhythms - what can be called genre afroblues. And it's effective. Optimistic. Anything but blue (in the traditional sense). It is as if the two musicians want to move from A to B, without rushing. It is as if they have been taken on a road trip and have invited the listener through the mangroves in the southern United States and the savannah in Subsahara - and with a polyrhythmic elegance, an at once quite simple and very complex expression.
Ivan Rod May 22, 2020 IVAN ROD
Ba Balance Around the Crocodile Pond One World Records 2020
'Ba Balance is an unlikely duo of a guitarist and percussionist who manage to sound like a complete band together. Although they also use some loops, you only hear the guitars of the Danish guitarist Preben Carlsen and the Gambian percussionist Sal Dibba.
Carlsen is responsible for the compositions that they convert together into amazing Danish-African musical landscapes, thanks to ingenious riffs, beautiful melodies and African rhythms. They can both play subtly and modestly, as well as rock and tear through corners, and they even take a trip to the American West Coast with a surf instrumental.
You will hear the pleasure of playing together in every song, and you will also hear that these two virtuoso musicians are soul mates who really found each other in this unique world fusion. I'm not going to list who they've all worked with here, but trust me, that's an impressive list. What matters here is that the two of them get something new and unique together - a beautiful musical landscape that you have never heard before. Awesome! An absolute must.'
Holly Moors, Moors Magazine June 10, 2020 MOORS MAGAZINE
Ba Balance Around the Crocodile Pond One World Records 2020
'A Danish guitarist and a Gambian percussionist, who have found each other completely through music and who create a completely unique project. That could be a very short summary to introduce this debut album, but both gentlemen deserve some further explanation, although their names may not sound unfamiliar to small-letter readers.
Preben Carlsen is the Dane of the two. You can deduce that from his name. He grew up in a small town on the West Coast of Denmark, like all his peers surrounded by rock and blues. He was previously attracted to punk and jazz and, becoming a citizen of the world, he soon fell for the sound and style of the African continent. That was the start of a two decades long journey between "his" Denmark and Africa. Along the way he got to know a lot of people and, as befits a real musician, he also started playing with some of them and ended up on stages with people like Toumani Diabate , Bassekou Kouyaté, Etienne Mbappé and even PeeWee Ellis. Dawda Jobarteh and Moussa Diallo meanwhile regard him as their regular companion.
The trajectory of percussionist Sal Dibba was somewhat similar, although he was born in the Gambian Bakau, a lively coastal town with a famous crocodile pond. As a young man, he developed into a very good percussionist, who had mastered the Saharan grooves as the best. That made him a much needed sidekick and so he ended up in bands of people like Tityo, Tony Allen (!!!) and ... Toumani Diabaté. Do you feel the click coming? He came and the two gentlemen decided, almost twenty years after they first heard each other, to form a duo and that became this Ba Balance.
Carlsen wrote ten songs all together, the gentlemen started working on them in the studio in a semi-improvised way and the result is this downright impressive record: how the two guys feel about each other, how they make the other better, how they make each other's space. And the freedom to shine ... it all comes on top of the manifest of skill they each display on their own instrument.
However, this record is about more: this is such a rare case, where the whole is infinitely greater than the sum of the parts: it seems as if the melodies they invent were always there, as if they did not have to make an effort to achieve a sound that you can only achieve if you have been playing together for a long time.
Well, of course that was partly the case, but I think when they decided to try it out as a duo last year, both musicians just sensed that the time was right for an experiment of this kind. As far as I'm concerned, that experiment was a complete success and if I understood correctly, we could see the duo at work in the near future as a support act for our beloved Tamikrest. I hope that is confirmed. In anticipation I am already going for the ax for this super deluxe debut album!
Dani Heyvaert, Rootstime, June 24 2020 ROOTSTIME
Ba Balance Around the Crocodile Pond One World Records 2020
'The Danish-Gambian duo Ba Balance will figuratively invite us on a journey around a tank full of crocodiles on Friday, June 26, in the section Three Times from Proglas. Let's present their album Around The Crocodile Pond.
The Duo Ba Balance consists of Danish guitarist Preben Carlsen and Sal Dibba, a rhythm instrument player from the West African Gambia. They have been playing together in various bands for 18 years and have been performing as an instrumental duo since last year. Their joint album 'Around The Crocodile Pond', which was released in May (One World Records), offers an impressive concert for guitar and percussion. The music is carried in the style of the so-called African blues with a strong rhythmic component. The mood is reminiscent of both raw blues from the Mississippi River Delta and brings memories from the African desert of Mali.'
Milan Tesař, June 23, 2020 Hudba Proglas
Ba Balance Around the Crocodile Pond One World Records 2020
'Not often you hear a CD from a duo that sounds so full and mature. Danish guitarist Preben Carlsen and percussionist Sal Dibba from The Gambia form Ba Balance and sound like a complete band with heavy desert rock, blues, pop and even a touch of folk.
Duos come in many varieties, but electric guitar and African percussion is a much less common combination. This can be found in Ba Balance and is represented by guitarist Preben Carlsen and percussion is Sal Dibba .
Preben Carlsen grew up playing blues rock in a small village on the west coast of Denmark. He collaborated with, among others, the African musicians Toumani Diabate, Bassekou Kouyate and Etienne Mbappé and, partly because of this, became increasingly interested in African music. Percussionist Sal Dibba is from Bakau, a small fishing town in The Gambia (West Africa). He also worked with kora (West African harp) player Toumani Diabate, but also with Nigerian top drummer Tony Allen. In 2019 Preben Carlsen and Sal Dibba decide, after 18 years of cooperation, the duo Ba Balanceto set up: the perfect guitar / percussion combination.
The album opens with 'Djembe'. A powerful composition of distorted guitar work with djembe accompaniment. A composition that fits in with the North African desert rock. By using effects such as reverb, distortion, delay, looping, tremolo, chorus, etc., Preben Carlsen creates a wide guitar sound. He wrote all the pieces on Around the Crocodile Pond, many with a link to West African music from Mali, but also to the North African desert rock of the Touareg. He is excellently assisted by Sal Dibba, that plays around themes, supports accents effortlessly and creates wonderfully polyrhythmic patterns. The compositions are arranged in such a way that you don't miss a bass or other chord instrument. It is precisely the suggestion that makes the music exciting and impressive. That suggestion makes it seem like you hear a lot more than you actually hear. In addition, the pieces are varied and Preben Carlsen and Sal Dibba provide a coherent variety. In 'Bambadinka' we also hear the kora (the West African) harp, a 'surf sound' in 'The Surfer' that makes the melody whizzing over the water, 'Behind the Hills' is a groovy piece in 3-beat size and 'Pretty One' is a lovely one composition with open chords. 'Around the Crocodile Pond' is a fantastic album: open in sound and full of color. Highly recommended for the (African) music lover!'
Mattie Poels, Music Frames, June 12 2020 MUSIC FRAMES
Ba Balance Around the Crocodile Pond One World Records 2020
TOP 20 on WORLD MUSIC CHART EUROPE July 2020
The WMCE
Once a month 45 radio-Worldmusic-specialists from 24 European countries select their individual top ten favourites out of current Worldmusic releases from their playlists and mail them to Berlin. The nominations are processed in a data-base and the top ten is then published as the WORLD MUSIC CHARTS EUROPE. Only actually released recordings will be displayed in the WMCE.
The Jury
Only producers and presenters who are running a regular Worldmusic program (typicaly one hour per week) in a legal FM radio network in Europe are admitted to the jury (called "The Panel"). Members of the European Broadcasting Union are preferred. There is no quota for countries, but no radio shall be represented by more than three presenters of Worldmusic programs. Each program may only be represented by one person.
The WMCE was founded in May 1991 by 11 radio-producers from 11 countries on behalf of the World Music Workshop of the European Broadcasting Union (EBU).
Secretary of the WMCE is Johannes Theurer. The WMCE are looked after by the German company Gift Music GmbH.
Ba Balance Around the Crocodile Pond One World Records 2020
Guitarist Preben Carlsen has been a well-known secret on the Afroscene in Denmark for many years.
Loyally, he has played his ever more fabulous guitar behind people like Dawda Jobarteh and Moussa Diallo to an extent that the gentlemen probably would not have delivered at exactly the same level if the Jutland master guitarist had not been there to cast so many balls.

Just take the last children's album with Moussa Diallo, where Jannik Haastrup's iconic Cirkeline figure goes to Africa. Carlsen should probably have been in the title with letters as big as Diallo, because his influence as a guitarist and composer is so great both in the studio and live.

Gambian-Swedish Salieu "Sal" Dibba has also taken on the role of sidekick for Dawda Jobarteh and many others with great stubbornness and always shown competence by the meter. Now it has become this venture in the form of the duo Ba Balance, which is out on One World Records owned the passionate music producer and manager Carolina Vallejo in Christianshavn, yet Ba Balance is based in Malmö, where both Preben Carlsen and Sal Dibba live today.
Dogma
It's something of a dogma album the two have made. They wanted to present a musical business card that is similar to what you get live, without the many friends who would otherwise have happily lined up, and who therefore have to wait until another time. So since neither of them sings, the dominant instrument will be Preben Carlsen's guitar, which plays especially amazingly well-sounding blues paraphrases, but also about the fact that you have to be very nerdy about guitar in order to fall in love in earnest.
That said, it opens with a sweepingly beautiful melody Djembe, which will probably put this universal percussion instrument on stage, but then it is otherwise Preben Carlsen who virtuously takes over and plays irresistibly virile, so you think that now comes the big album. But the start is unfortunately the highlight, and which one.

That said, a lot is saved when we hear compositions like Behind The Hills, which is the album's longest and packed with great riffs. While the trip around the pool with the crocodile, as the album's title suggests, actually seems to take place in the Mississippi Delta in the USA, where the pure blues get a well-laid - albeit quite predictable - trip and get a little bored, even though Carlsen has this virtuoso craft. Unfortunately, there is generally very little for Sal Dibba to do on the record and that is a shame. When you make a duo, it must be more equal, I find, especially because the drums he masters, such as djembe and sabar, are drums that can usually deliver the great rhythmic speech flow at home in West Africa.

I think that the two have made a promising base, and that future records with more contributors and slaps on the African spices can unfold something big, because the two have shown this before in other contexts. Just take tracks like the exciting The Surfer, where Preben Carlsen again plays lavishly and gets lots of counterplay, even if it is guitar with accompaniment and not two brave lions who stand up and take up the fight.
That said, it's a pleasure for a guitar nerd who signed to hear all that makes Preben Carlsen a unique guitarist in so many contexts. I will look forward to seeing them out on stage as they unfold the entire palette into living spaces where they can become an experience, not least if they leave the American riverboat and sail back to the Gambia River and surroundings where there is more slap on the rhythms and they have both proven for years that they frolic unrestrained.

Especially if the roar of lions turns into bites and life is in danger and Sal Dibba demands his place and provides the counter play we predominantly miss on this studio release.
Torben Holleufer July 19 2020 GLOBALNYT