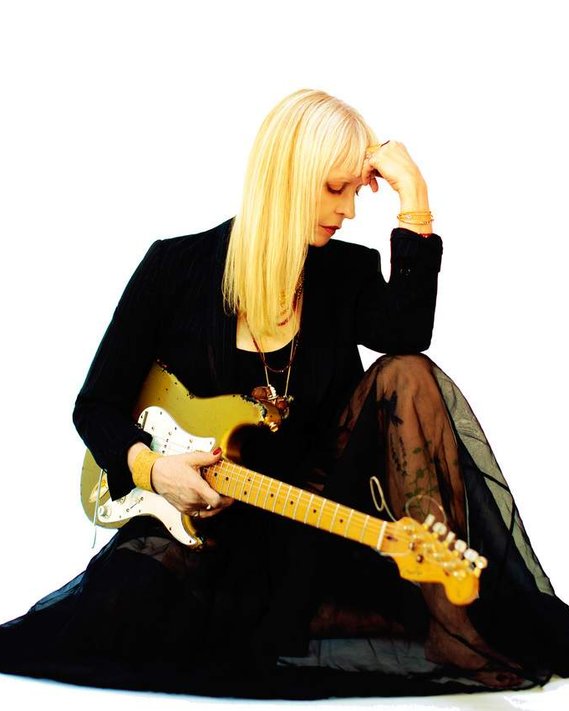 LENI STERN
Leni Stern wasnamed one of the "50 Most Sensational Female Guitarists of All Time" in Guitar Player magazine's 50thanniversary issue in 2017, with the publication aptly dubbing her "agenre-defying adventurer." Leni's example shines beyond just prowess on herinstrument. The pursuit of her career across more than four decades has been ineffect a political act – a practice in strength and defiance to be a woman anda bandleader, a female electric guitarist and a composer, an artist who producesher own albums and manages her own career. Moreover, in our currentpolitical climate, it is now more essential than ever to celebrate theimmigrant experience that brought Leni to the U.S. from Germany and her Africanbandmates from Senegal and Argentina. Leni's inspiration has long been theinterconnectedness of music, history and our humanity. She says: "Music is oneof the truest, most beautiful expressions of the human spirit, crossingborders, dissolving tribalism, binding us together – if we let it."
Leni has been on an evolutionary road overthe past decade and a half, as she fused her long-honed contemporary jazz soundwith a deeply felt exploration of West African styles. She has traveled andstudied extensively in Mali and Senegal, performing with iconicsinger-songwriter Salif Keita among other African notables. The Munich-bred NewYorker's trans-Atlantic journeys have yielded a fresh, personal idiom, onewhere progressive virtuosity blends seamlessly with age-old folk traditions.Leni's trio with bassist Mamadou Ba and percussionist Eladji Alioune Faye, both natives of Senegal, released the albums 3 in 2018 and Jelell in 2013, along with figuring into the expansive cast of her Dakar Suite of 2016. Now the trio hasbecome a quartet with the addition of Argentina-bred keyboardist Leo Genovese,a top talent on the New York scene as both a leader and as a collaborator withthe likes of Esperanza Spalding and Jack DeJohnette.
The first album from Leni's new quartet – aptlytitled 4 – showcased the crystallineguitar, West African grooves and multilingual songs that listeners expect fromher, with Genovese's improvisational fire and hints of South American lyricism freshlyadded to the mix. In its four-star review of the 2020 album, DownBeat marveled over the "joy" inLeni's playing, adding: "If you love the wail of Youssou N'Dour and the jangleof Franco Luambo, but also have a soft spot for música popular brasileira, this crisply produced, infectiously melodicand rhythmically percolating album is for you." Leni's newest creation withGenovese, Ba and Faye – Dance, to bereleased in June 2021 – is her 23rd album since 1986 and surely hermost irresistible to date, brimming as it does with rhythmic joie de vivreand hum-along melody. Dance includes the swaying, prayer-like single "Yah Rakhman," alongwith such other highlights as a richly harmonized version of the traditionalgriot tune "DaoudaSaane" and the hard-grooving "Kani" ("Spicy Pepper").

Long before her African adventures, Leni andher husband, fusion guitar star Mike Stern, helped stir up the vibrant scene atGreenwich Village club 55 Bar in 1980s. Her debut album as a leader, Clairvoyant (Passport, 1986), featuredher alongside two jazz icons, guitarist Bill Frisell and drummer Paul Motian. Afterthe 1987 follow-up for Passport, The NextDay, Leni made a string of albums for Enja and Lipstick: Secrets (1989), Closer to the Light (1990), TenSongs (1992), Like One (1993) andWords (1995). She also recorded aguitar duo album co-billed with guitarist Wayne Krantz, Separate Cages (Alchemy, 1996). With 1997's Black Guitar, a record that saw her exploring the role ofsinger-songwriter, Leni began producing her own albums. Over the next decade, sheexplored jazz-meets-pop territory, releasing albums via her own Leni SternRecordings label, as she has done ever since. This period yielded Kindness of Strangers (2000), Finally, the Rain Has Come (2002), When Evening Falls (2004) and Love Comes Quietly (2006).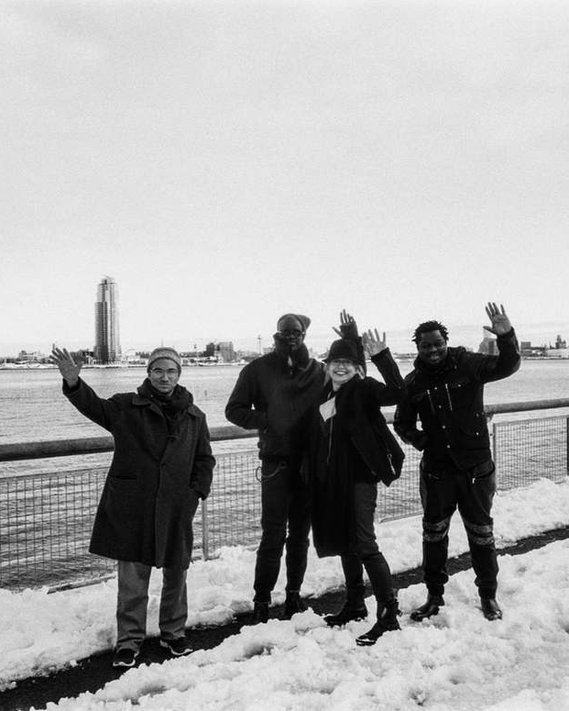 As Leni's muse has led her around the world,her curiosity and empathy enabled her to develop collaborative relationshipswith kindred spirits across cultures. She appeared in a 2013 documentary film, Last Song Before the War, about Mali'sFestival in the Desert, where she first made the connections with the WestAfrican musicians who have had such a profound effect on her life and music. Havingteamed with Salif Keita and his band on multiple occasions in Africa, thesinger pulled her onstage Stateside to play a solo during his CelebrateBrooklyn! concert in 2008. Two years later, she performed at Carnegie Hall withher original African mentors: Bassekou Kouyate and Ami Sacko. As the Washington Post has said, "Stern doesn'tcollaborate with the West Africans so much as commune with them." Leni also playedthe U.S. Cultural Ambassador tour of Nicaragua in 2014, and she wasartist-in-residence at Nepal's Jazzmandu: The Kathmandu Jazz Festival in 2015. And,of course, Leni has played top jazz clubs across the U.S., as well as diversefestivals in Europe. Her live performances and ever-prolific recording careerhave earned Leni Gibson's Female Jazz Guitarist of the Year award five times.
Leni performed at Mali's Festival in theDesert in 2006, getting to know many of the native musicians on site in theSahara Desert three hours outside Timbuktu. She began spending several months ayear living and working in Mali and Senegal. These experiences led to a boldnew era in her music, starting with the EP AluMaye (Have You Heard) and album Africa,both released in 2007. Leni recorded the biggest parts of six albums at thestudio owned by Salif Keita in Bamako, Mali. She also played in Keita's band,as well as with star Senegalese singer-guitarist Baaba Maal, who brought her toperform at his Blues du Fleuve Festival. Kora master Toumani Diabaté offeredtutelage in Mali, too, on traditional rhythms of Malian music and the richorchestration that can be achieved with its string instruments and percussion. Malian n'goni player Bassekou Kouyate and his wife,vocalist Ami Sacko, also became key mentors and collaborators.
Recent years have brought some well-deserved recognition to Leni's career. In 2013 she wasfeatured on WBUR, Boston's NPR affiliate, in a feature piece. In 2015 she was the cover storyfor the Santa Fe New Mexican. In 2016 she was a headline performer at Africa Festival inWurzburg, Germany. Leni was named in Guitar Player's 50th Anniversary Issue (March 2017) asone of the Most Sensational Female Guitarists of All Time. In 2018 she was selected as anofficial showcase performer at South By Southwest (SXSW) in Austin, Texas.

LENI STERN
Selected discography
Dance 2021
4 2020
3 2018
Dakar suite 2016
Jellel 2013
Smoke, no fire 2012
Sabani 2011
Sa belle belle ba 2010
Spirit in the water 2009
Alu Maye 2007
Africa 2007
Loves comes quietly 2006
When evening falls 2004
Finally the rain has come 2002
Kindness of strangers 2000
Recollection 1998
Black guitar 1997
Separate cages 1996
Words 1995
Like one 1992
Ten songs 1992
Closer to the light 1990
Secrets 1989
The next day 1987
Clairvoyant 1985