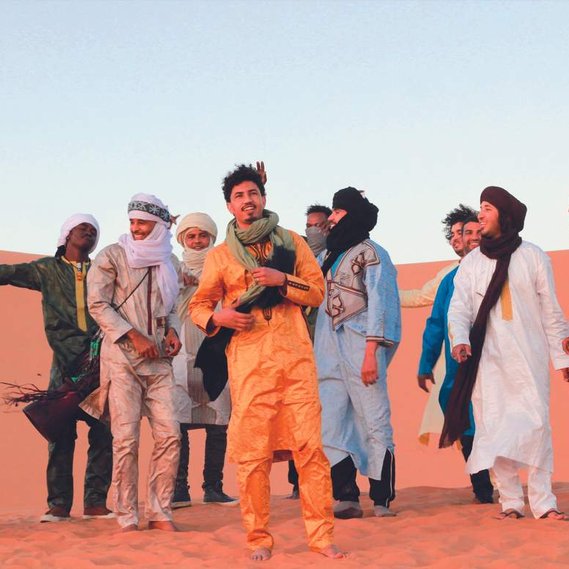 KADER TARHANINE

The new pearl of modern Tuareg music, Kader Tarhanine, is the artist most listened to by young people across the Sahara. He embodies novelty, youthfulness, and natural talent. He was introduced to the general public in 2012 via social media with the song "Tarhanine Tegla" or "My love has gone." Born in Niger, to Malian parents from Menaka and Timbuktu, he grew up in Tamanrasset (Southern Algeria). Naturally, his band is also cross-cultural, with musicians from Algeria and Mali. As such, he is inspired by the rich repertoire of this Sahelo-Saharan region and lives between the two countries. Blending traditional rhythms with rock tonalities and lyrics inspired by Sahelian and Arabic poetry, Kader's music is sung by Tuaregs all around the world.
New album by Kader Tarhanine IKEWANE (RACINES)
Recorded in Bamako at Salif Keïta's Moffou studio in November 2018, the album Ikewane ('Roots' in Tamachek) finds its inspiration in the musical and cultural heritage of Tuareg music while opening up to other horizons!
Contributions by various guest artists have made it a unique work enriched by Mali's musical diversity.
Ikewane is a hymn to love, unity and peace. It is also an appeal against clandestine emigration and advocates for the development of the Sahara. The participation of artists such as Badi Zein, Oumar Konaté, and Djimé Sissoko, complement the album with contributions from Arabic, Songhoï and Mandinka music.