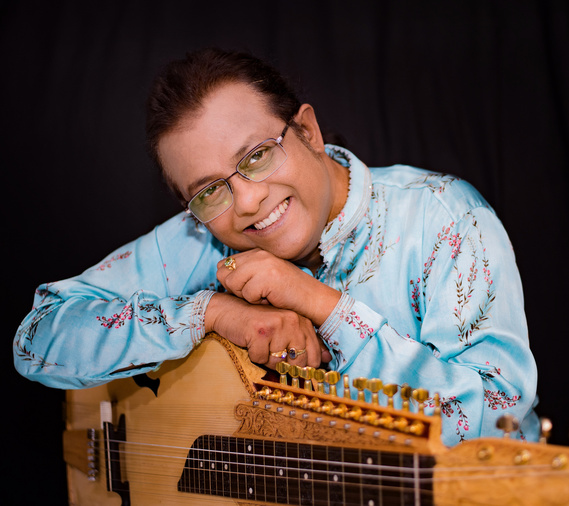 Pandit Debashish Bhattacharya is arguably the greatest slide guitarist in the world. He is an undisputed master of the demanding technique and discipline of both Hindustani classical music and modern world fusion. He made his first radio performance at the age of four, and has been winning accolades and mesmerizing audiences ever since. He studied with some of the great gurus of Indian music, including Brij Bhushan Kabra and Ustad Ali Akbar Khan, and has recorded and performed with other modern masters from around the world including Ustad Zakir Hussain, John McLaughlin, U. Srinivas, Jerry Douglas, Ballake Sissoko, and Driss el Maloumi. Of particular note in the world of slide guitar was Debashish's appearance with Derek Trucks, Jerry Douglas, and Bob Brozman at the Savannah Music Festival in 2008.
Anandi Bhattacharya
Debashish's daughter Anandi Bhattacharya is a child prodigy in a family filled with illustrious musicians and singers. Her father has been her constant guide, teaching her to hone her skills in understanding music. She inherited the golden voice of her grandmother, whose music grew and was nurtured within the family. Sukanya started training under her aunt Sutapa Bhattacharya at the age of three. She gave her first radio performance at the age of four.
She began training under Vidushi Shubhra Guha at the age of twelve. Her singing is a mixed style of Agra, Patiala and Maihar schooling. Though she is a young singer, born in 1996, she has already been attempting songs from various genres of Indian music, Bollywood music, and popular western numbers. Yet she dreams of imbuing the cultural ethos of India in her presentation of music. She has already started touring with her father and has presented an experimental programme on Tagore's songs and raga music inter-phase. Her tone and timbre, and her intellect, portend a bright future for this precocious young singer.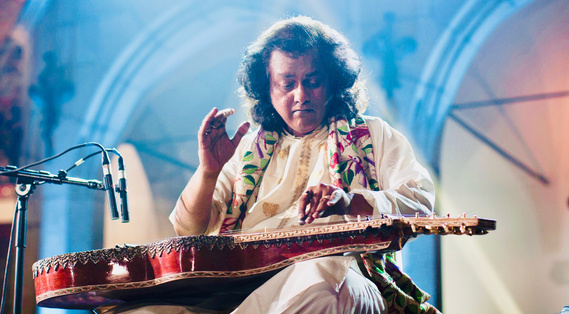 Debashish has released 27 commercial audio and video recordings and has performed over 3,000 live concerts. This large body of work has garnered extensive recognition, including two Grammy nominations, the Billboard top 10, Song Line Magazine top 10, Central Asia and Asia pacific world music top 10, Amazon top 100 albums, 2016 Songlines Music Award, 2007 BBC Planet Award, 2005 Asiatic society Gold medal, the 1984 President of India Gold Medal, and National Geography and World's Who's Who enlisted artist.
He is a prolific composer, creating thousands of compositions based on over 40 ragas, which he aims to archive for future generations of slide guitarists across the globe. His fertile imagination has generated not only a number of innovative playing techniques, but also the design and manufacture of four unique slide instruments: the Chaturangui, the Ghandarvi, the Anandi, and his newest creation, the Pushpa Veena. Each of these instruments has a unique voice tailored to capture different aspects of his sensational technical prowess and deep emotional sensitivity. He is also a devoted teacher with hundreds of students from around the globe. He is currently writing the first ever curriculum for formal study of the Indian slide guitar, to be released in 8 regional Indian languages and 8 international languages.