Carlos Sarduy
The virtuoso Cuban trumpet player, composer and multi-instrumentalist Carlos Sarduy, has received one GRAMMY AWARD together with Chucho Valdés for Irakére 40 and two LATIN GRAMMY AWARDS - and its no surprise, cause once you hear his amazing playing, you know you are into something not only unique, but splendid and outstanding.
Besides being a spectacular trumpet player and composer, the multi talent is also a pianist, percussionist and producer. No wonder he has impressed and collaborated with great artists such as Chucho Valdés, Bebo Valdés, Steve Coleman, David Murray, Esperanza Spalding, Concha Buika, Ainhoa Arteta and Richard Bona.
Sarduy co-produced the albums with Marinah and Ojos de Brujo, that won Premios de la Música 'Mejor Gira Española' in 2005 and Latin Grammy Awards 'Best Flamenco Album' in 2006. Quite some achievements!
EL COMITÉ Cuban Groove Century 21
Here are 7 good reasons to listen to El Comité: Harold Lopez Nussa, Rolando Luna, Rodney Barreto, Yaroldy Abreu, Gaston Joya, Carlos Sarduy and Irving Acao.As some of the most talented and recognised Cuban musicians of their generation, they had the great idea to be together on stage at the Jazz Festival Jazz Sur Son 31 in Toulouse in 2017 .After two concerts, it seemed obvious to them that this project had to continue.It's now reality!The recording of the first album was done in July 2018 "Y que!? (So ​​What)"at Elixir studio in Toulouse. Dreadful compositions, covers stamped El Comité, varied titles, accessible and with always this very beautiful fluidity and energy. Afrobeat, funk, ballads, latin jazz ... a "cuban groove siglo 21" to put in all ears!
'LUZ' by Carlos Sarduy
A vibrant album that offers freedom and musical versatility in a natural and very personal way. The band that collaborated in the recording of this work comprises four allies of his native Cuba: Lukmil Pérez on drums, based in Paris, Regis Molina on saxophone, currently living in Berlin, Reinier Elizarde on double bass based in Madrid and Aruan Ortiz, pianist resident in New York, among other great collaborations such as Abel Marcel on piano and Munir Hossn on guitar. Along with this cast of musicians, through his musical vision, Carlos Sarduy has created this new influential work in the world of Latin Jazz, lauded for its fresh, deep, innovative, vital sound that always evokes pleasure. An elaborate piece of music, with improvisation as the protagonist but making the pieces sound like popular music. With its roots firmly in Afro-Cuban music but expressing its versatility in the freedom of improvisation.
In his lively concerts Sarduy takes the audience on a magical and vibrant musical journey through a sensitive discourse, characteristic of a personal language that reflects his great knowledge about Afro-Cuban music and his mastery in developing jazz in an innovative way. His solo album LUZ, is a an example of his mastery. Groovy from beginning to end, elegantly performed by some of Cubas virtuosos, with each their strong personality, and carefully guided in Carols Sarduy's exiting music universe, the album is bound to become part of Afro Cuban or simply Jazz History. Time will tell...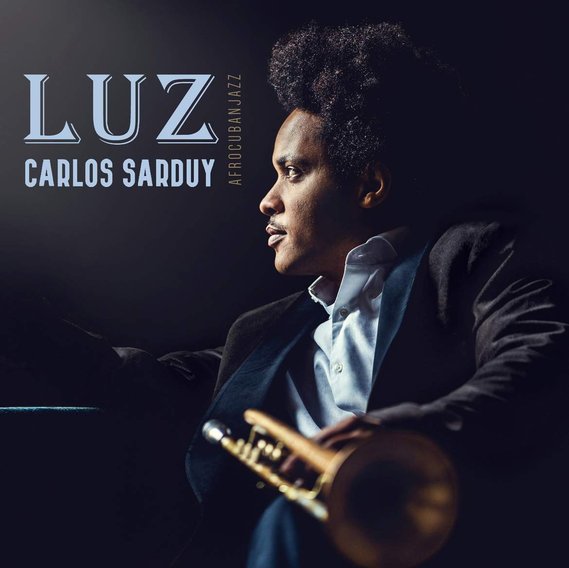 Biography
Carlos Sarduy was born in 1985 in La Havana, Cuba. At the age of 19, he released his solo album 'Charly en la Habana', in which he collaborated with Chucho Valdés, Germán Velazco, Amadito Valdés, Teresa García Caturla y Roberto Carcasses among others famous musicians. This album was nominated to the Cubadisco awards in the Jazz category.
Sarduy plays the trumpet since the age of 3. He started playing with many bands of afro Cuban music when he was just a child. When he was 10 years old, he entered the Paulita Concepción Conservatory. After the fifth year of his music degree, he continued his studies in the prestigious music school 'Amadeo Roldan'. Sarduy won his first award in the jazz competition 'Jojazz' at the age of 16. During this period in Cuba, he recorded and sharedthe stage with Chucho Valdés, Interactivo, Afro Cuban All Stars, David Murray,
Changuito, Lennine, Los Van Van and La Orquesta Sinfónica Nacional. When Sarduy was 20 years old, he came to Europe and became part of the World Music jazz scene playing with Ojos de Brujo, Nitin Sawhney, Esperanza Spalding, Bebo Valdés, Yasmin Levy, Elefteria Arvanitaki, Horacio 'el Negro' Hernandez, Julio Barreto, Duquende, Mariza, Rosario, Ainoa Arteta, Orishas. Becoming a regular collaborator of the musical producer Javier limón.
He won a GRAMMY Latino in 2008 with the band Ojos de Brujo, and he had a nomination in 2011. In 2010 he participated in Chucho Valdes & Concha Buika's album 'El ultimo Trago', witch also won a LATIN GRAMMY AWARD.
Carlos Sarduy has played on some of the most important stages and festivals of Europe, Asia and America, such as the London Jazz Festival, Barbican Centre of London, North See Jazz Festival, Puri Jazz Festival, Roskilde Festival,
Madrid Jazz Festival, Barcelona Jazz Festival, Anciénne Belgique in Brussels, Womadelaide, Pirineos Sur, Roun House, Midem, Opera House of Sidney,Montreux Jazz Festival, Oslo World Music Festival, Bérgamo Jazz Festival, Sunfest, to name some..
You can hear the sound of his trumpet in the soundtrack of 'Chico y Ritya' by Fernando Trueba, 'La piel que Habito' by Pedro Almodovar, and 'Los Hijos de Buenavista' by German Kral.
In 2013 Sarduy combined the work on his tours and recordings with the production of Marinah´s album 'El baile de las Horas'.
Carlos Sarduy's latest solo album, 'LUZ', is a work of world jazz in the broader sense of the genre, with an excellent sensibility and musicality. As usual, he is surrounded by great musicians: Aruán Ortiz, Lukmil Pérez, Reinier Elisarde 'El Negrón', Regis Molina and Marinah, leader of Ojos de Brujo.
CARLOS SARDUY AWARDS & DISCOGRAPHY
GRAMMY to IRAKERE 40 with CHUCHO VALDÉS [2016]
LATIN GRAMMY to "EL ÚLTIMO TRAGO" with CONCHA BUIKA and CHUCHO VALDÉS [2009] LATIN GRAMMY to "TECHARÍ" with OJOS DE BRUJO [2007]
LUZ · CARLOS SARDUY · CARLOS SARDUY PRODUCTION 2019 AFROLAILO · Marinah · CARLOS SARDUY PRODUCTION · 2017 CUBADISCO · 2018 EL CORO DE MI GENTE · Amparanoia · 2017 POR LA HABANA · Dany Noel · 2017 IVAN MELON LEWIS & THE CUBAN SWING EXPRESS · Ivan Melon Lewis · 2017 SINTONÍAS · Marinah & Chicuelo · 2016
CUBAN MEET RUSSIAN · Alexey León · 2015
QUE LINDO ES EL AMOR · Interactivo · 2014
TINTA UNIDA · Dany Noel · 2014
CHICO & RITA · Chico & Rita · Banda Sonora · 2014
EL BAILE DE LAS HORAS · Marinah · 2013 · CARLOS SARDUY PRODUCTION
LA NOCHE MÁS LARGA · Concha Buika · 2013
VUELVEN LOS AMAYA · Los Amaya · 2012
PROPOSICIÓN · Dany Noel · 2011
CORRIENTE VITAL · Ojos de Brujo · 2010
DESPEGAR · Ondina · 2009
SON DE LIMÓN · Javier Limón · 2008
TERRA · Mariza · 2008
LA VIDA · Ainhoa Arteta · 2008
BLOWIN' REFLECTIONS · Román Filiú Quintet · 2006
EN EL AIRE · Alaín Pérez · 2006
CIVILIZACIÓN · X Alfonso · 2006
AYER Y HOY · Ivan Melon Lewis · 2005
THE NEW GENERATION · Juan de Marco y Afro Cuban All Stars · 2005 GOZA PEPILLO · Interactivo · 2005
SENTIMIENTO · Francis del Río · 2004
HAYDEE · Haydee Milanes ·2004
GWOTET · David Murray · 2004
ART BEMBÉ · Gema & Pável · 2003
LA PIEL QUE HABITO · Pedro Almodóvar · 2011
CHICO & RITA · Fernando Trueba · 2010
LOS HIJOS DE CUBA · Pio Leyva y la nueva generación de músicos · 2005