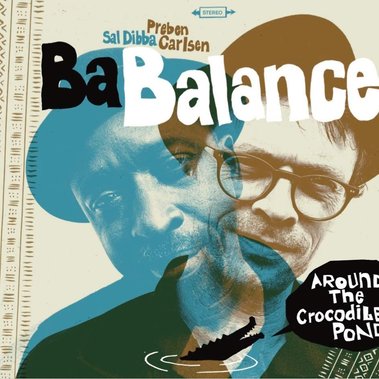 BA BALANCE 'AROUND THE CROCODILE POND' Get the album
"Guitar and percussion. That's it. That's what you get. But what a world of music you enter when two old friends – one from Denmark, the other from The Gambia and each a master of their own craft - sit down and decide, finally, to make a record." Iain Scott, Triple Earth & Sterns Music
'Around The Crocodile Pond' features the two friends Preben Carlsen and Sal Dibba grooving and improvising on ten remarkable songs by Preben Carlsen. Guitar riffs and melodies wrapped in effect pedals, loops and African rhythms creates a personal blend of music landscapes and makes the duo sound like a whole band.
"The music on 'Around the Crocodile Pond' flows with polyrhythmic elegance as the tunes weave organically in raw circular road movie-style Afro Blues. Iconographic reminiscent of wild wide landscapes, from the deep mangrove forests in the Southern states of USA to the flat red mountains on the Mali desert and with a dramatic blue sky above it all." Carolina Vallejo, One World Records
'AROUND THE CROCODILE POND'
All music composed arranged & produced ©by Preben Carlsen
LINE UP Preben Carlsen Guitars / Sal Dibba Percussion
TITLES 1 Djembe 04:14 / 2 Deltatonic 05:44 / 3 The Stranger 04:20 / 4 Behind The Hills 06:06 / 5 Bambadinka (The Crocodile Pond) 04:57 / 6 Pretty One 05:01 / 7 The Surfer 04:37 / 8 Yankadie - Watch Your Steps 04:05 / 9 Sundown - Moonup 05:35 / 10 For Xalam 05:16
STUDIOS Recorded at Around Studio in Malmö, Sweden January to March 2019 / *except track 10 Recorded at Around Studio in Saly, Senegal December 2017 Mixed by Preben Carlsen at Around Studio & Tambourine Studios in Malmö, Sweden Co-Mix by Björn Lindberg at Rabbit Hole Studios inMalmö, Sweden Mastered by Antony Ryan at RedRedPaw Mastering Cover Art by Rasmus Meisler ©℗One World Records 2020
Preben Carlsen grew up in a windy village on the west coast of Denmark where Blues and Rock was all around. He was more attracted to the experimental underground scene and started playing Punk and Jazz. From villager to world citizen Carlsen left his birth town and fell in love with the rhythms and styles from the African continent. His feeling for the sub-Saharan African mood mixed with punk and jazz has resulted in his personal guitar sound. A sound with traces back to his Danish West Coast origin but nurtured and developed through 20 years of travelling, meetings and collaborations with masters such as Toumani Diabate, A.B. Crentsil, Bassekou Kouyate, Koo Nimo, Pa Bobo Jobarteh, Etienne Mbappé, Harouna Samake and even Pee Wee Ellis. Carlsen is also the regular guitarist, bass player and a collaborative arranger for various soloists, not least Dawda Jobarteh and Moussa Diallo.
Sal Dibba grew up in Bakau, a vibrant urban coast town in The Gambia famed for its sacred crocodilepond. His skills on traditional West African music and contemporary Western music has led him towork with international stars like Tony Allen, Titiyo and Toumani Diabate. During the last 18 years,Carlsen and Dibba has been playing together in several bands. In 2019 they created Ba Balance, andstarted recording straight away.
Photo Sascha Kajic